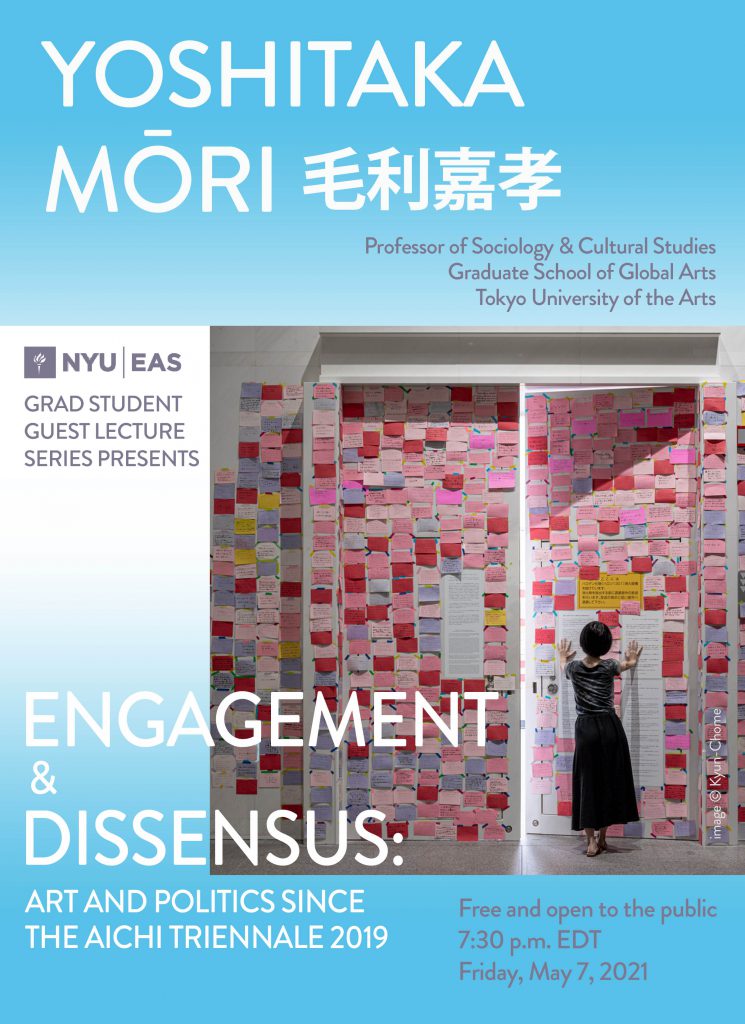 ENGAGEMENT AND DISSENSUS:
ART AND POLITICS SINCE THE AICHI TRIENNALE 2019
Event Abstract: The closure of a section of Aichi Triennale 2019 entitled "After 'Freedom of Expression?," which dealt with topics that are taboo in Japanese contemporary art such as the emperor, the 'comfort women' issue and Okinawa, has led to a huge controversy over human rights, freedom of expression, nationalism, gender, internet politics and art's engagement with politics. By looking at the incident and debates around the Triennale, Professor Mōri's talk aims to contextualize its fallout within the context of a long-term transformation of Japanese contemporary art and politics since the end of Japanese Neo Pop (Sawaragi) movement in the 1990s. He will also discuss the current climate of art and politics in Japan in the time of COVID-19.
Dr. Yoshitaka Mōri is Professor of sociology and cultural studies, at the Graduate School of Global Arts at Tokyo University of the Arts. His research interests are postmodern culture, media, contemporary art, the city and transnationalism. His publications include Sutorīto no Shisō (The Philosophy in the Streets) NHK publications and Popyurā Myūjikku to Shihonshugi (Popular Music and Capitalism) Serica Shobō, 2005/2012 (in Japanese) and "J-Pop Goes the World: A New Global Fandom in the Age of Digital Media" Made in Japan: Studies in Popular Music, T. Mitsui (Ed), Routledge, 2014, "New Collectivism, Participation and Politics after the East Japan Great Earthquake", World Art, Routledge/Taylor & Francis, 5/2, 2015, "J-pop: from the Ideology of Creativity to DiY Music Culture", Inter-Asia Cultural Studies, Routledge, 2009 : London, Vol.10, No.4, pp.474-488. He has initiated Post-Media Research Network (PMRN) and organized a series of workshops and symposiums and a director of a multilingual web project, Relations: A Project for Criticism and Media Practices as part of Tokyo Biennale.
Discussant: Tom Looser